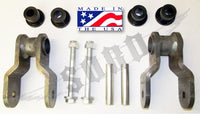 Sky's Off Road Design heavy duty 3/8ths thick shackles.

 Shackles are 4.5 eye to eye, laser cut and formed steel, with 1.625 .120 DOM bushing tube welded to shackle to help support them.

Bolt and sleeve size is 9/16ths. Inner width of the shackle at the spring end is 3". Tube with bushing width is 3" as well.
These shackles fit Sky's Chevy rear flip kits, RFK-001 and 2.5" springs such as Chevy 52s

This design is superior to flat shackle hanging from a central point as the captured bushing design eliminates excessive sway at freeway speeds. This design also with large bushings (1.375 od)  will flex very well and make your springs work like they should in rough terrain.