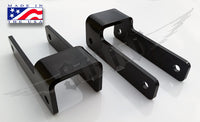 Sky's Off Road is now producing a heavy duty 1.5 inch lift Chevy S-10 rear leaf spring shackle kit.

Shackles are laser cut and cnc formed 3/8ths steel plate, eye's of the bolt holes 9/16ths, eye to eye on the shackles is 7 inch's, and id is 3.065.

Designed for Domestic S-10 leaf springs, may be used in other applications, see specs above.

Please check your vehicle to insure proper fit.

Sold in Pr's

Fully Made in the USA!