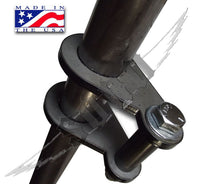 Sky Off Road Designs now manufactures full tube wrap shock mounts.

Mounts are designed to be installed on tube chassis or shock hoops prior to final welding.

Full wrap mounts are much stronger than face mount tabs that only attach to a 1/3rd of the tube generally. This will prevent tearing out of the mounts in extreme use.

Tabs are used mainly for coil over and air shock applications, although never a bad idea for general shock mounting, and they look bling!

Tabs are laser cut from USA 1/4 inch PO steel, come with a 1/2inch shock eye with room to drill larger if needed. They also are relieved on the underside to allow the shock to travel its arc without damage to the top of the shock.
Available for 1.5 inch, 1.750 inch, and 2.0 inch tube.
Sold in sets, 1 set is 2 pair.