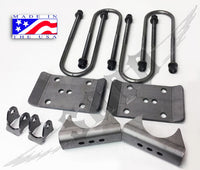 GM Corporate 14 bolt axle conversion kit with lower axle shock mounts!

Also can be used for replacing worn factory components.

    Kit includes grade 8 5/8" U-bolts, 3/8" laser cut and cnc formed spring plates, laser cut cnc formed 1/4" spring perches with a 3.5 relief to fit the larger tube on the Corporate axle, and axle mounted lower shock mounts.

Fits 2.5 wide domestic springs, or 2.375 Toyota springs.

U bolts are designed for up to a 2.5 inch thick spring pack, or thinner pack with a small block lift. Saddle to end of leg height is 8.5 inch's.

Great for turning rear ends with big lifts, much safer than shims.
Manufactured in the USA, with US steel, U bolts also a product of the USA made locally for Sky's Off Road Design.

Longer U-bolts are available for vehicles needing to run a block still in options above.