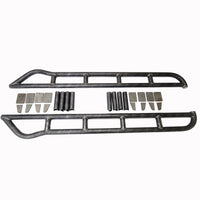 Special New Product Sale Price!
Introducing the strongest, best designed, best looking rock sliders for your 4Runner. Decades of offroad and design experience went into making these feature packed sliders.
Built with strong American made seamless DOM tubing these sliders are feature a tree kicker at the rear and a unique wrap at the front that provides a smoother edge, keeps the tires out of the bar and looks better.

At 72" they leave room for a bit of fender trimming to fit larger tires yet protect the entire rocker.

Includes:
2 72" fully welded DOM rock sliders
8 DOM notched tubes to connect sliders to the frame
8 1/4" mounting plates
8 1/4" gussets
Specs:
Material: 0.120" Wall DOM Tubing and 1/4" HRPO A36 steel plates
72" long