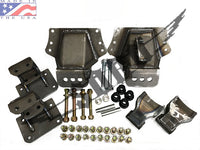 Provides much better ride than stock by adapting the newer 8" longer rear Superduty leaf springs.

More robust brackets than factory

Can eliminate factory block

Locates off of factory holes, no measuring required.

Retains factory E-brake

2.5" lift with 43-1849 11-16' F250SD 2WD/4WD Rear Springs
Application:
Truck: 80-97 Ford F250/350 and 92-18 E350 or 80-96 Bronco/F-150 (requires additional drilling)


Springs: 08-16 Super Duty Rear Leaf Spring
Included:

2" or 4" rear Shackle Flip


Conversion Boomerang Shackle

Front Spring Hanger

E-brake Bracket

Hardware Pack

(The kit includes our 2" or 4" rear flip brackets, The front hanger is the same for both. If you're upgrading from an RFK you will just the front hanger and the Shackle)
Additional Information:
Spring Choice: We used the 43-1849 two leaf 2011-16 F250 springs in developing this kit. They are the softest rear spring you can get. If you are towing or hauling you will either want to add air bags to these, or run a stiffer spring.
The 43-1705 spring is the three leaf pack used in 2008-16 F250 / F350 SRW / DRW trucks. Very common. It's a 3600 lb. spring which is equivalent to stock OBS F350 rear springs. It also sits about 1.5-2" taller than the spring this kit was measured with. Lift springs seem to be measured off of these springs not the 2 leaf. 
Part numbers and specs for Super Duty Springs can be found HERE
The kit includes our 2" or 4" rear flip brackets, The front hanger is the same for both.

    You need the whole kit to complete the swap and keep the correct suspension geometry.  We only made the front hanger only an option for those that already have the 2" or 4" shackle flip and/or boomerang shackle.
E-brake bracket is intended to be bolted or welded on to match your specific application, We have found there is enough variance in location from one chassis to another that it doesn't allow us to place the bracket for you.  Hangers have 2 pilot holes in case you want to drill larger holes and run bolts in a location you choose.  Powder coated kits will require drilling and tapping to locate e-brake bracket.

If you have a standard cab truck you will have to slide the front tank over to be able to get behind the frame to drill the necessary holes and install bracket.  We installed this kit on a single cab truck, it is possible without removing fluid lines off of the inside of the frame.