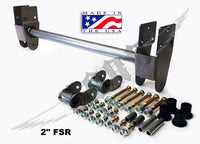 -Provides much better ride than stock by moving shackle to rear of spring.
Eliminates the weak front shackle design.
-2" will level a factory F-350

Please review the instructions under the installation section for all kits listed in this section. For other parts needed, please review the additional information section.
Application:
-Truck: 92-97 Ford F-350 w/ 85-97 Dana 60
or
92-97 Ford F-250 with TTB drop bracket such as Tuff Country part # 20852 for 2 & 3" Shackle Reversal
-Spring: 80-97 52"  F-350 Leaf Springs
Additional Information:
Check out Diesel World's Project Obsessed running Sky's FSR (RSK) Kit
The intercooler specific kit simply has the cross bar lower to accommodate an intercooler. Otherwise the non intercooled version tucks it up behind the bumper for a cleaner look. If you have a diesel we recommend doing the intercooled version even if you don't have an intercooler just the option is always there.
Recommended Parts to Accompany Your Shackle Reversal
The following parts list are intended for those needing help with finding the right parts to accompany their shackle reversal.  These parts lists are intended for Stock F350 85-97 52" (2 leaf) factory springs that are not clapped out with sagged bushings.  The kit possibilities are endless when you start coupling a leveling or lift spring to a shackle reversal, we wrote these lists below as a guideline.
If you have specific questions and want an emailed recommended list to suit your specific needs please email us at:   
Orders@SkysOffroadDesign.com
2" Shackle Reversal:
92-97 F-350 - 85-97 Dana 60 -  Leveling Purposes – Stock 85-97 F-350 Front Springs:
10" Bilstein Shocks (You will need longer shocks for the front, same size if you want to purchase new shocks for the rear as well)
Adjustable Panhard Bar (keeps axle centered under truck, factory bar is not adjustable and bushings are usually worn out which can create loose steering feeling or death wobble)
92-97 TTB F-250 – Leveling Purposes – Stock 85-97 F-250 Front Springs
92-97 2wd-4wd Swap - 85-97 Dana 60 – Stock 85-97 F-350 Front Springs
3" Shackle Reversal:
92-97 F-350 - 85-97 Dana 60 – Stock 85-97 F-350 Front Springs:
92-97 TTB F-250 – Stock 85-97 F-250 Front Springs
92-97 2wd-4wd Swap - 85-97 Dana 60 – Stock 85-97 F-350 Front Springs