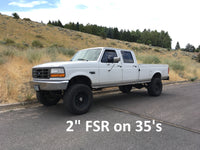 Use the slider right above to view what comes in the different kits!
These are complete kits designed to save you time by taking the guess work out of what to order. The parts lists will also work as guidelines to help you know what is needed to complete these swaps if you're needing help or already have some of the parts.

-These kits DO NOT include leaf springs.
-Part numbers and specs for 99-04 Superduty Springs can be found online HERE
NOTE : Cheap, foreign aftermarket springs are not recommended. We have had issues with the military wrap leaf being way too large and contacting the hanger. This is not an issue with quality USA made springs.
-You will need to provide your own Front Superduty 99-04 Leaf Springs. We base lift amounts off of V-Code 43-814 Springs.  X Codes will lift an extra 1.5"

-These kits are designed with everything you will need to swap front Superduty leaf springs into your 92-97 Solid Axle F-250/350 and level the rear out.
           -       If you're wanting to use 99-04 rear springs, you need to separately order our  Ford Super Duty boomerang rear shackle. FORD-SDBS-001

            -       If you're wanting to use 08-16 rear springs, the 4" complete kit is not for you, it requires a different rear kit.
2" Kit allows use of moderate 35" tires.  Not 20x14" Wheels

4" Kit allows use of moderate 37" tires.  Not 20x14" Wheels
All Parts Come Powdercoated Except for U-Bolts

Check out Diesel World's Project Obsessed running Sky's FSRSD (RSK) Kit
Installation:
Information/installation instructions on specific items in these kits are separately on their own product page.
2" Shackle Reversal Instructions
4" Shackle Reversal Instructions
Installation Notes:
Sway bar will need to be deleted, or will need end links extended. Our 3" Sway bar end link extensions are available here: 85-97 F-350 Sway Bar End Link Extensions

We have had a few customers with worn out spring bushings and sliders have issues with clearing the shackles on the 2" FSR kits with the military wrap. You need quality to spec parts to make this work. (If using used springs with this kit)

Instructions for Replacing Leaf Spring Bushings and Isolators
It is common for the front frame horns to be spread due to age as the only thing holding the front of the frame together is the rivets at the engine cross member. You may need to pull the frame together to get the hanger on.

These trucks were not built to a high level of precision. Some of the rivet holes may need to be opened up with a die grinder as the holes may not line up perfectly.

When installing this kit with lift springs, the springs are often shorter than stock as they are re-arched stock springs to get more lift. We recommend drilling just one hole for the spring hanger and holding it in place with one bolt until you are able to set it down and check to see that the shackle angle is satisfactory. Then drill the remaining holes.
Check out Diesel World Magazine's install write up:
https://www.dieselworldmag.com/diesel-technology/project-obsessed-4/
Additional Info:
-Lift amounts rated for V-Code 43-814 Springs
-X-Code 43-818 Springs will lift an extra 1.5"
-If you need help deciding what other parts you may need to complete your kit please CLICK HERE