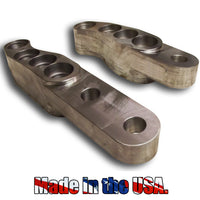 Sky Manufacturing very popular Dana 44 Tall Steering arms in a 4 stud version to fit Reid Racing 4 Stud Knuckles.

This arm is 7/8ths of an inch taller than a standard Dana 44 steering arm. It has been designed to fit leaf sprung vehicles, without the use of spacers. It retains a short stud as well, making the install stronger than long stud kits. The arms are available in a long passenger side 2 hole, and a short single hole driver side. Arms are machined to accept gm one ton tie rod ends, 2010L-2234R and use factory style conical washers, These arms have the correct parallel angle machined to set the tie rod surface flat with the axle.

Steering arm dimensions 4 3/4" from center stud to tie rod eye, 7 1/8" from center stud to drag link eye.

Sky Manufacturing alloy heat treated black oxide studs-install kits sold separately in our steering section.
Installation:
Apply red Loctite to the short side of the studs and thread them in hand tight.
Install steering arm, cone washers and stover nuts
Torque to 90-110 Ft/Lb (factory Dana 44 spec)
Steering Arm Info:
Our steering arms are CNC machined out of ASTM A572 Grade 50 steel. We previously have used 1018 steel, but switched to a more rigid material (A572). Grade 50 is a very strong low allow steel that fulfills our exceptionally high strength requirements, and is particularly strong for applications in which it is riveted or bolted. ASTM A572 Grade 50 is considered a "workhorse" grade and is widely used in many applications. Steel mills produce channel and heavy beams with Grade 50. It is commonly used in structural applications, heavy construction equipment, building structures, heavy duty anchoring systems, boom sections, structural steel shapes, and applications that require high strength per weight ratio.
*Tensile strength: 65,000 psi
*Yield strength: 50,000 psi

Manufactured in Oregon!

Sold in Pairs.

We also stock Knuckles, 4 stud install kits, and all other necessary products for your steering conversion.