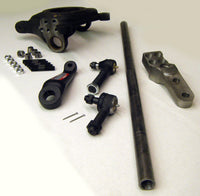 Steering kits are built to order and take up to 5 days to build.
Due to confusion, this does not include weekends and other lead times noted on the web site.
Ball Joint Dana 60 Ford (Over the Spring) Steering Conversion for Chevy Solid Axle Converted trucks using the 93-97 Ford Ball Joint Dana 60, 99-04 Dana 60 or Dana 50 Ford Ball joint Super Duty axle.
Kit includes 4 relief drop pit man arm for the Chevy IFS box, new adjustable drag link with 1 ton tie rod ends, 5 stud billet steel steering arm, 5 studs, conical washers, nuts and machine work to your knuckle.
Please Note:
We do not have knuckles machined and in stock to trade out

YOU NEED TO SEND US YOUR KNUCKLE FOR MACHINING.
There are multiple brake caliper mounts over a 5 year stretch 92-97,  Super Duty 99-04 knuckles are the same and any year will Work.
Knuckle machining runs in a batch process, we do not machine knuckles one at a time.  Once we receive your knuckle, we will machine it in less than 2 weeks and have your kit mailed back to you.
Minimum lift required is 6" unless you want to notch your frame
1.5" taller arms are designed for leaf packs 3.75" or thicker.
Kit will correct for a 7 inch lift with stock pit man arm. This puts the drag link at almost parallel to the axle, within reason you can do up to a 10 inch lift with no drop pit man arm, however we recommend a 4" drop pitman arm over 8" of lift.

Do not send in knuckles that have already been machined or welded on.
If you order a steering kit with other parts, we will not ship the additional parts without your knuckle due to shipping cost factored as a complete order and inventory issues.
Pitman arm is a 32 spline 4 relief arm, if you have a 3 relief sector shaft you will need to swap the steering box to a 32 spline, 4 relief.

Directions:

1. Order the this kit on our web site.

2. Package up your knuckle(s) without ball joints or spindle studs.
(ADDITIONAL CHARGE FOR BALL JOINT REMOVAL- ADD TO CART HERE)

3. Clearly mark the box with your order number, full name and phone number.

4. Mail your knuckle to:

Sky Manufacturing
3580 Marcola Rd.
Springfield, OR 97477

5. We will machine it, pack the rest of your kit, and mail it back to you!

***Our knuckle machining shop only operates Monday through Thursday. No knuckle machining happens on Friday, Saturday or Sunday. If your knuckle arrives to us on Thursday afternoon, it will not be ready to ship until Wednesday of the following week, depending on current lead time***



Steering Arm Info:
Our steering arms are CNC machined out of ASTM A572 Grade 50 steel. We previously have used 1018 steel, but switched to a more rigid material (A572). Grade 50 is a very strong low allow steel that fulfills our exceptionally high strength requirements, and is particularly strong for applications in which it is riveted or bolted. ASTM A572 Grade 50 is considered a "workhorse" grade and is widely used in many applications. Steel mills produce channel and heavy beams with Grade 50. It is commonly used in structural applications, heavy construction equipment, building structures, heavy duty anchoring systems, boom sections, structural steel shapes, and applications that require high strength per weight ratio.
*Tensile strength: 65,000 psi
*Yield strength: 50,000 psi