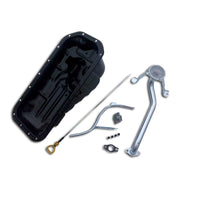 This is the oil pan needed to clear your solid axle swap in your 2RZ or 3RZ powered Toyota.
These are Genuine Toyota parts bundled together in an easy package. We buy in large quantity so we can pass on the savings and eliminate the hassle of trial and error.
This is a complete kit with everything needed for the swap.

The oil sensor hole cover 11494-75010 has been discontinued by Toyota.
Sky's stepped up and made one for you. It's included in the kit and is available separately HERE.

Includes:
oil pan
pick up tube
metal gasket for oil pick up
dip stick tube
dip stick
oil sensor plug and bolts

17/32 plug (for old dipstick location)