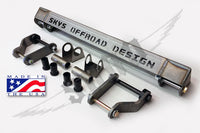 Customer Photo:  Chris Flores with his full width swapped First Gen Toyota
What it is:
Toyota Full Width Solid Axle Swap kit to put install full width axles under a 79-95 Toyota Pickups

What it Does:
Fits Chevy or custom axles with 31.5" spring pin spacing. Dodge 32.5" with relocation of the spring pads.
Kit will add 1.5 inch of lift above the lift of the springs you are using, due to the length of the shackles and the slight drop of the front hanger.
What it fits:
79-95 Toyota Pickups
Whats needed:
- This Kit (Toy-sasfw-001)
- Full width Front Axle

- Our Custom USA made Leaf Springs

-Drive line mods or Conversion flanges
- Steering kits:
Dana 60 Crossover - Dana 60 HighSteer - Dana 44 Crossover  Dana 44 HiSteer We can build any steering kit for a Dana 44 or 60 under a Toyota
-Shocks/Mounts Bilstein Shocks   Shock Mounts   Front Shock Hoops
-Full Width Brake Lines Conversion Brake Lines
- Master Cylinder Adapters /Parts:
GM Master Cylinder Adapter - GM Master Cylinder Adapter Fittings - GM Master Cylinder - Wilwood Master Cylinder Adapter

- U-bolt Flip Kit Dana 60 or Dana 44  
- Upgraded Dana 60/44 parts

- Corporate 14 Axle Conversion

- Gears, Lockers, RCV Shafts, all the cool kid parts
Looking for some other builders parts to compliment this kit?  Check out our builders section where we have everything from link mounts to replacement bushings.
Included in this kit:
1- Front Hanger
2 - Shackles
2 - Frame tubes
4 - Bushings
2 - Frame jigs
- Necessary hardware
FAQ:
Common way to make a Dodge axle fit, cut off removable driver side spring perch, move in 1/2 inch. Flush frame tubes with inside of frame, not split the difference like standard. This will get you about 1/4" per side. Use shims provided with front hanger to move springs outboard as much as possible, 2 washers on the inside. Axle will sit aprx 3/8ths to driver side. It is possible to weld the spring pin hole on passenger cast perch and move the position in slightly as Dodge used a wider spring than a Toyota spring. this will center the axle.


Formed shackle goes inside frame, strait on the outside, with 1/2 inch uhmw puck at top. Lower portion of shackle is drilled 1/2 inch, includes a 1/2" bolt and 1/2"-M18 sleeve. You can drill to your spring bushing size or build sleeve as needed.
Shackles are 5.375" eye to eye
Front Hanger is 2.750" from frame mounting surface to center of leaf spring eye hole.
Installation:

These instructions are for the Toyota axle SAS, but it's very close to the same.
Check out all the cool pictures of Fred William's Toyota "Clampy" with this kit, our 3F springs and our shock hoops front and rear. Here's an update on Clampy, fifteen years of hard wheeling and it's still holding up.