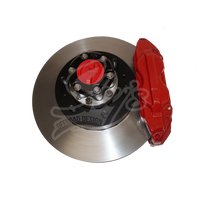 Introducing our Tundra Brake Swap for 79-85 Toyota Solid Axles. This allows you to fit the huge 4 piston 231mm brakes from the 99-06 Tundra with the IFS (86-95) hubs to not only widen the front axle to match the IFS rear axle width but greatly improve braking.
It also makes the Toyota solid front axle MUCH easier to tear down and reassemble. In fact the entire spindle, bracket and hub assembly can be removed in one chunk. Simply remove the two caliper bolts and the rotor slides off. Remove the hub dial, axle snap ring and the 8 bolts holding the spindle to the knuckle and the whole chunk comes off. Now you can remove the axle shaft without ever touching a bearing, or cone washer.
This kit replaces our old "Axle Widening System". It uses the same concept of the IFS hub on the solid axle to make the front axle match the 58" wide IFS rear axle. This kit will make your axle 3.5" wider at the WMS. The 1/4" thick rotors sit between the hub and the wheel. Because of this we recommend ET style lug nuts with alloy wheels and/or longer studs.
Includes:
2 Caliper mounting bracket
16 M10 bolts
Installation Notes:
Knuckles must be swapped side to side, positioning the factory caliper mounting ears facing forward. If using 6 shooter knuckles, you will need to cut or grind off one set of caliper mounting ears per knuckle to make room for this setup.
Must use 86-95 IFS wheel hubs, and these must have the OD of the wheel mounting flange turned down by about 0.600"  to allow the Tundra / Gen 3 4runner / Tacoma rotor to slip over, to about 6.680 diameter.
Caliper and rotor used must match each other. There are big brake and small brake 4runners depending on what size wheel came on the vehicle originally, same goes for the tundra brakes.
Accepts solid axle locking hubs or flanges (not included)
Can be used on either side, making it easy to carry spare hub assembly
Caliper / Rotor  Options:
13WL 03-06 Tundra / 02-07 Sequoia rotors and calipers (10mm inverted flare brake fitting, 17" or larger wheel recommended, some 16s may fit, some wheels may need a spacer or caliper grinding for clearance)
S12WE 95.5-04 Tacoma  rotors and calipers (stock) (uses banjo brake fittings!) may fit some 15" wheels

S13WM 96-02 4Runner rotors and calipers (10mm inverted flare brake fitting, same as all 79-95 trucks and 4runner) may fit some 15" wheels

13WG 05+ Tacoma / 07-14 FJ Cruiser / 03-09 4Runner calipers (10mm inverted flare brake fitting, same size as 13WL, fitting is just clocked differently, use 05 Tundra rotors with this caliper. 17" or larger wheel recommended, some 16s may fit, some wheels may need a spacer or caliper grinding for clearance)
14WA Calipers 10+ Lexus GX460 and 10+ 4Runner (10mm inverted flare brake fitting, 17"+ wheels only) 1.0" larger diameter and 0.5" wider rotor with improved cooling fins
Larger caliper pistons (.2") compared to the 13WL. May require machining of the caliper mounting ears for correct fitment (3mm)