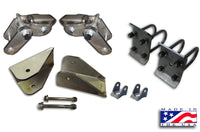 The Original since 1998, Sky's Toyota rear 63" Chevy spring swap kit can save you hours of fabrication time. Now with missing link shackles for added flex and easier installation. It is designed to use the 2.5" wide domestic spring (3" over all with bushings) 63" Chevy spring found in 1988-2010+ GMC/Chevy trucks. This kit can be used to hang other similar springs. Ford Ranger and F150 spring swaps are also common.
Includes:

Missing Link Shackle Kit
Front Under-frame leaf hangers
U-bolt flip kit
Lower Shock mounts
Hardware kit
Features:
Drop-style shackle with internal anti-inversion stop allows extra drop and more suspension travel, with less sway caused from longer shackles. Utilizes stock shackle hanger.
Less shackle hanging down to hit obstacles in the rear also helps avoid bent springs, broken drive train parts, and generally getting stuck and holding up the trail.
The front leaf hangers have a low angle slope to help slide over rocks and trail obstacles. The hangers have a 1/2" bolt eye, which allows the kit to use early Chevy springs as well as Ford leafs. They can be drilled out 9/16" and includes both sets of hardware.
Heavy duty 1/4" formed U-bolt plates and grade 8 non-plated, USA made U-bolts to help insure your axle stays under your truck.
Shock mounts are notched to fit the axle housing and use a 1/2" bolt. Designed to work with factory upper mounts.
For added comfort we recommend a set of our Low Profile Poly Bump Stops to keep shackles from slapping frame.
This kit is fully made in the USA
Installation:
Mark center line or plumb bob axle , remove axle, and remove leaf springs. Measure out your new leaf springs and make your marks for where your new leaf spring hanger will go. Cut off existing brackets and grind smooth. Tack your new leaf spring hangers in place and bolt the axle in place. Generally 7-9 inch's forward eye to eye of factory is good for keeping the same wheel base. Install shackles in shackle hanger and attach to leaf spring. Set onto the ground at ride height and check axle placement, along with shackle angle. If everything looks good remove springs and bushing from brackets so they don't melt or burn. After welding, paint and reinstall springs, bushings, and hardware. Torque all hardware appropriately. These are basic instructions. Axle placement may be different for your setup.