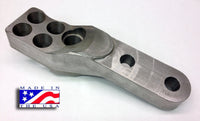 Sky's Off Road Design Ford Dana 60 Ball Joint High Steer Arm.

Fits 92-97 OBS knuckle, and 99-04 Super Duty knuckles ( machining required ).

Sky's has been machining Dana 60 Ford ball joint knuckles since 2008.

We have done many variations and have come up with a general fits most option. This arm is 2" tall and designed to fit our Dana 44 conical washers and chrome moly steering studs. 5 studs makes this design stronger than a normal Dana 60 with only 5 1/2 inch studs, and no conical washer to help lock the arms in place.

Arms also have a step in the similar to a key way in order to further aid in securing the arm to the knuckle.

Arms are tapered for a GM tie rod end and can be drilled for 3/4 or larger Heim Joint.

**We also offer a 1.5" taller version of this arm. This is a passenger only single hole for drag link arm. These taller arms are designed for those running leaf packs that are 3.75" or thicker and needing crossover steering**
NOTE: THE KNUCKLE MACHINING NEEDED TO ACCEPT THIS ARM IS PROPRIETARY TO OUR STEERING ARMS. WE CAN MACHINE YOUR KNUCKLE ON A CNC MILL FOR A PERFECT FIT.
Recommended with this part:
- Ford Dana 60 Ball Joint Knuckle Machining

- Dana 60 Ball Joint Steering Arm Install/Stud kit


Steering Arm Info:
Our steering arms are CNC machined out of ASTM A572 Grade 50 steel. We previously have used 1018 steel, but switched to a more rigid material (A572). Grade 50 is a very strong low allow steel that fulfills our exceptionally high strength requirements, and is particularly strong for applications in which it is riveted or bolted. ASTM A572 Grade 50 is considered a "workhorse" grade and is widely used in many applications. Steel mills produce channel and heavy beams with Grade 50. It is commonly used in structural applications, heavy construction equipment, building structures, heavy duty anchoring systems, boom sections, structural steel shapes, and applications that require high strength per weight ratio.
*Tensile strength: 65,000 psi
*Yield strength: 50,000 psi

Sold individually, please select an option above.